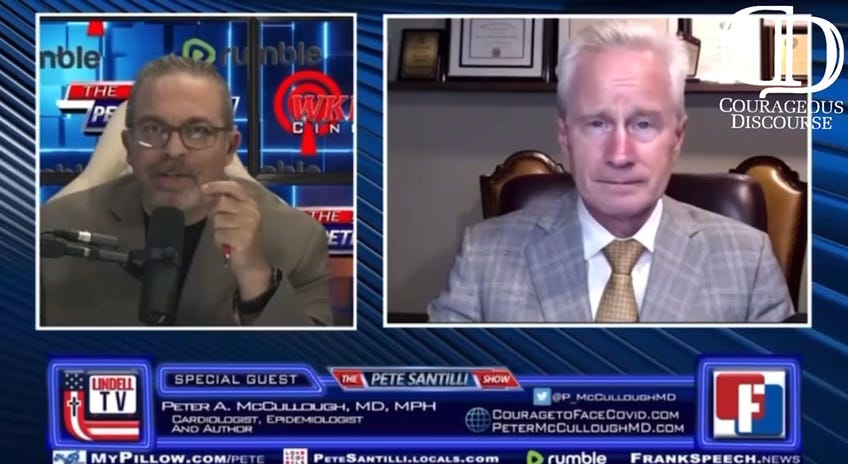 Bio-pharmaceutical Complex Defined, Role of Front Man Hotez, Cincinnati Children's Hospital Enters Dark Transgender World, and More
Cincinnati's own Pete Santilli Interviews Dr. McCullough
By Peter A. McCullough, MD, MPH
In Cincinnati the "Queen of the West," there is a part of the city called "Pill Hill" where many hospitals are located. I had a chance to sit down with Cincinnati's iconic media icon Pete Santilli who is famous for the independent structured, insightful interview. His audacity profile says: "Conservative Provocateur Pete Santilli is indisputably the most controversial radio talk show host on the planet. The Pete Santilli Show is a news, commentary and analysis show hosted by Pete Santilli and Deb Jordan."
He gave me the opportunity to define the "bio-pharmaceutical complex" and make the case why the US should pull out of the WHO and not be held to the WHO Pandemic Treaty. Santilli brought up Dr. Peter Hotez who has publicly weaponized the terms "misinformation" and "anti-science;" so listen to how I handled these and why they have no role in a clinical discussion of data. We progressed all the way from childhood mass vaccination to autism and then to the new and explosive craze of transgender medicine and showed how they are all tied together. Pete was blown away when I mentioned all the medical societies are supporting transgender clinical medicine. I used the analogy of transgender medicine at Cincinnati Children's Hospital to frontal lobotomy.
Scull has written "Tens of thousands of lobotomies were performed in the United States from 1936 onward, and both these men would continue operating for decades. Lobotomy's inventor, the Portuguese neurologist Egas Moniz, received the Nobel Prize in Medicine for his pains in 1949. Major medical centers in the United States—Harvard, Yale, Columbia, the University of Pennsylvania—regularly performed variations on the basic operation well into the 1950s." This operation permanently disabled many Americans who could have been spared with cognitive behavioral therapy. The same can be said for young children with gender ambiguity. With normal kids, the best cure for gender dysphoria is to let them go through normal puberty with counseling if needed later on in life. Use of hormones and surgery is directly analogous to the irreversible effects of frontal lobotomy done in a prior equally dark period in medicine.
Watch with a 7-day free trial
Subscribe to Courageous Discourse™ with Dr. Peter McCullough & John Leake to watch this video and get 7 days of free access to the full post archives.