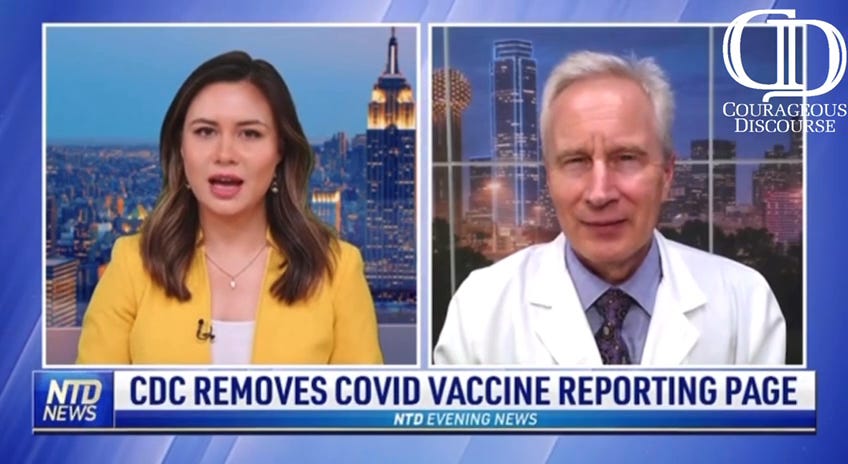 CDC Turns Blind Eye to Vaccine Safety
V-Safe System Jettisoned as Untested XBB.1.5 Boosters Roll Out
By Peter A. McCullough, MD, MPH
Myers et al from the CDC published in January, 2023, on the importance of the government public health agency safety systems.
"Plans for safety monitoring included existing systems such as the Vaccine Adverse Event Reporting System (VAERS), co-managed by CDC and FDA [2], and large-linked electronic health record and claims-based systems such as the Vaccine Safety Datalink (VSD), the Biologics Effectiveness and Safety System (BEST) and the Center for Medicare and Medicaid Services (CMS) [3], [4]. VAERS is a national spontaneous reporting (passive surveillance) system that serves to identify potential vaccine safety signals for further evaluation. VAERS generates timely data but is limited by incomplete reporting of events to VAERS, and varying quality and completeness of reported information. Healthcare providers who administer COVID-19 vaccines are required to report specific adverse events to VAERS as part of the COVID-19 vaccine provider agreement; more information about these reporting requirements is available at vaers.hhs.gov/reportevent.html."
Nowhere in this manuscript does it indicate the US government will drop the V-safe system for COVID-19 vaccination later in 2023. As genetic injections are given every six months and the code for the Spike protein undergoes its third revision, there is even greater concern that safety data could worsen. Yet, the CDC V-safe website quietly stopped collecting adverse event reports with no reason or explanation. The V-safe website simply states: "Thank you for your participation. Data collection for COVID-19 vaccines concluded on June 30, 2023." If you go there today, V-safe directs users to the FDA's VAERS website for adverse event reporting, even though CDC officials continually derided VAERS as "passive" and "unverified." 
Watch with a 7-day free trial
Subscribe to Courageous Discourse™ with Dr. Peter McCullough & John Leake to watch this video and get 7 days of free access to the full post archives.