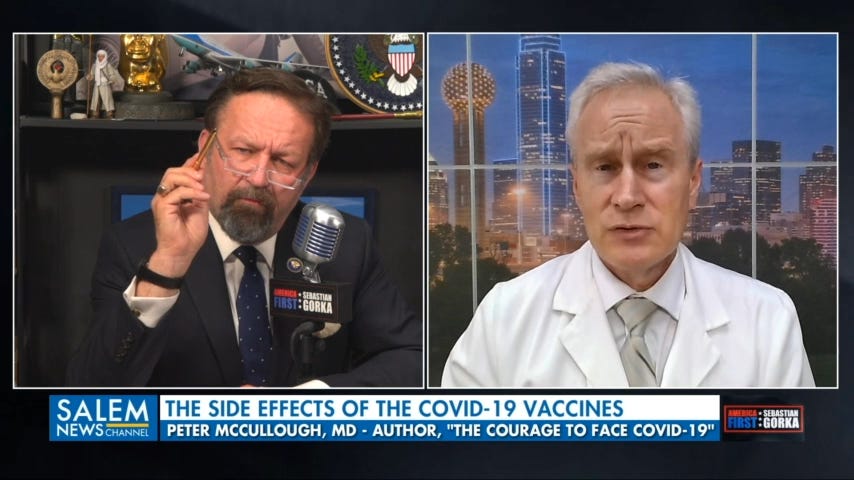 Dr. McCullough Responds to Biden's Roll Out of Fall COVID-19 Booster for "Everyone"
Sebastian Gorka Hosts "America First" One on One
By Peter A. McCullough, MD, MPH
President Biden has decided to roll out an already obsolete XBB.1.5 vaccine; an ill-fated attempt as Eris EG.5 rolls in this fall. Listen to Biden's press response that set's up this interview.
I told Dr. Sebastian Gorka (PhD in political science) that my mother Mary McCullough, age 83, breezed through presumed Eris with just a head cold. No fever or pulmonary involvement. She used over-the-counter remedies leading with viricidal nasal sprays and gargles. I want our most frail and elderly to know they can handle another bout of COVID-19 at home as my mom did in independent living.
Listen to this update as we range through treatment, vaccine cardiac arrests, masks, COVID-19 death statistics, monoclonal antibodies, Fauci, and what to expect next. We both anticipate many will shift their focus to Base Spike Protein Detoxification as recently published and confirmed by pro-vaccine censors—an evidence based useful strategy as a start for most long-COVID and vaccine victims.
Watch with a 7-day free trial
Subscribe to Courageous Discourse™ with Dr. Peter McCullough & John Leake to watch this video and get 7 days of free access to the full post archives.